There is a charm, a magic about agendas that I can't really explain. In my schooldays, I remember how special the day was when I went to the book store to get my textbooks and also choose an agenda for the next school year. I would spend so much time looking at all the available ones carefully, the cover, the size, the design… It was a difficult choice but very enjoyable, and I loved using them month after month.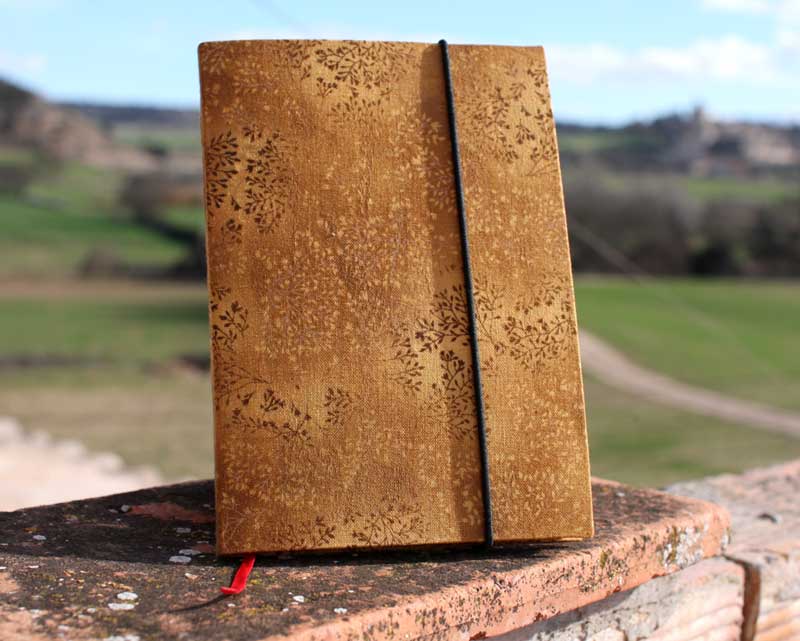 With time, though, as my life follows no schedule and I have little to organize, my agendas would growingly end up empty, unused, sad. So, even though I still browse through them when they appear in the stores by the end of the year, I don't let myself buy any, because it just makes me sad to keep them blank.
But I discovered something: I can revisit some of that magic in the action of bringing an agenda to life.
So I ended last year and started 2016 immersed in this process. I designed how the week would look, printed each page in my home printer, manually feeding the pages one by one to print the back sides. I found a nice fabric in a small shop for the cover, and with some paper  that I decorated as a craft in my childhood -yellowed with the years- as endpapers, some fun details like back pockets, a bookmark, made with a ribbon I found on the street, and an elastic closure, I am very happy with the overall result, and as always I hope it is durable enough for intensive use.
And there is something else: as I was working on the page design, I was testing the use of typographical symbols as a separation line between the weekdays… But I had a better idea: couldn't it be actual text, in small print, forming a visual line, as a separation, yet at the same time adding a bit of extra content? From here on it evolved into the idea of using the beginnings of books and texts, some classics, some books I really like, some poems, that would in fact become a riddle for each week: what book is it? Would it be easy to guess? And if not, it would become a book recommendation. On the opposite page I included illustrations related to each of the texts.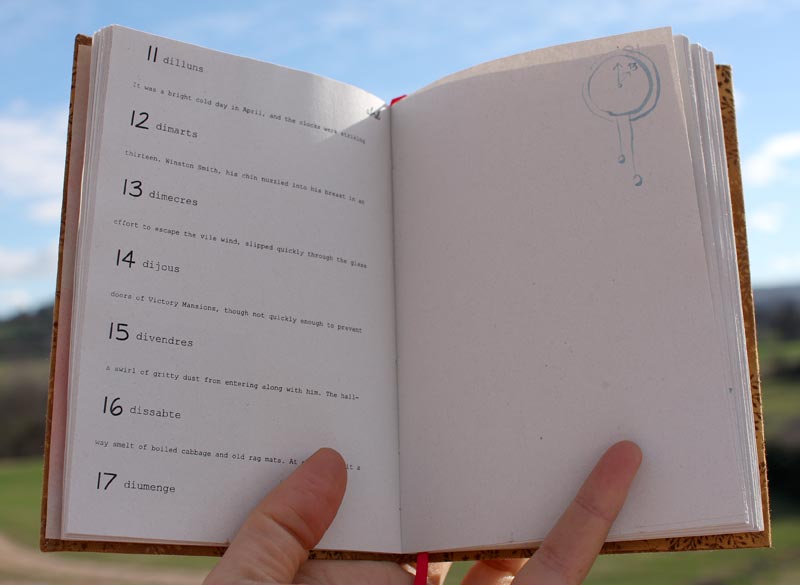 This one is in several languages: catalan, spanish, english, french and italian. I am playing with the idea, though, to make a version in a more accessible mix of languages or in just one, and see if anybody would like to have one.
I must say I had a lot of fun doing it, I hope it's also fun to use!